BCP sees record inflows of €330m in 1st 6 months of 2018
By
Friday, 13th July 2018
BCP is delighted to announce that inflows into BCP products were €330m in the 1st half of 2018, representing a record for any 6 month period in BCP's history.
John Calvert, BCP's CEO, commented that "the continued growth in our investment volumes reflects the exceptional quality of our offerings, the strong performance of previous investments, and our continued focus on delivering the highest levels of customer service in the market."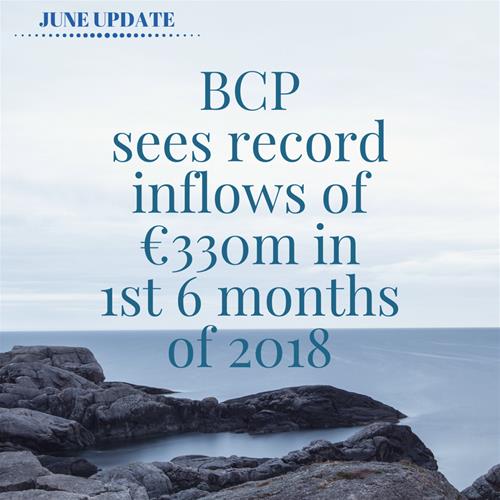 Maturity News - BCP Split Deposit Growth Bond 4 has just matured
This Bond paid 6% deposit interest on 33% of capital invested after 12 months, and 67% was linked to the performance of a basket of 30 global stocks. The share basket portion matured at the end of June with a gain of +40.3% gross (CAR 6.6%), over the 5¼ year term. This gain was achieved with the added benefit of a high level of capital security (90%), and reinforces the strength of BCP's investment selection process.
Market Overview
We are now over 9 years into an equity market bull run and as the safety net of Quantitative Easing (QE) from Central Banks is withdrawn and as political uncertainty continues to prevail globally, we expect volatility to remain a "new-norm" feature of markets going forward. As a result, we recommend that investors employ downside protection to dampen volatility and to protect their accumulated capital.
CRM - Benefits for you and your Clients
If you or your clients haven't signed up for CRM, we highly recommend that you do, the system is fantastic and it will be getting even better in the next month when we complete an upgrade which will make it easier and quicker to invest!
WARNING: Past performance is not a reliable guide to future performance.