BCP IPF to acquire the Fumbally estate in Dublin 8 in an off market transaction for €33.5m
By
Wednesday, 1st August 2018
BCP is pleased to announce that the BCP International Property Fund (IPF) has entered into a 50/50 joint venture with an institutional investor to acquire the Fumbally Estate in Dublin 8 for a sum of €33.5m.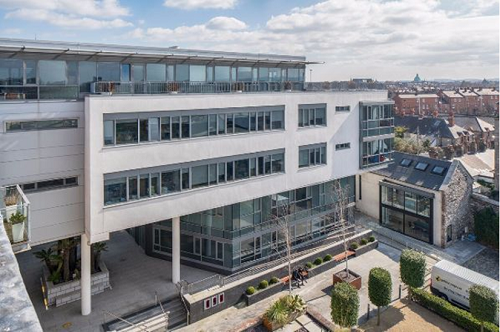 On completion the Fumbally Estate will represent the 5th acquisition for the BCP IPF, it will increase the total number of buildings within these 5 acquisitions to 10.
The Fumbally Estate includes four office buildings totalling 86,552 square feet, four residential apartments and a site of 0.4 acres which has a lapsed planning consent for a residential development.
On acquisition the real estate will generate an initial yield of 5.7%, while the purchase price of €33.5m reflects a blended capital value per square foot of €400 across the office space. The existing occupancy rate is 82% and the weighted unexpired lease term is 3.0 years. Included in the acquisition are two leases in agreed form which on signing will bring the occupancy rate to 94% and the initial yield to 7.0%. The reversionary yield on the overall is 9.6%.
The largest office building, which is a Grade A building developed in 2007 by a company controlled by Sean Mulryan, totals 44,186 sq ft and is responsible for 56% of the in-place rent. The three other buildings date from the 18th century and have been converted into modern office use.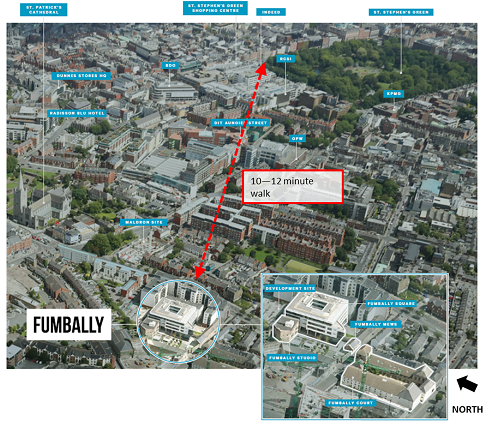 Tenants across the estate include CMC Coal, Maximum Media, Infineon Technologies, Square, and Technological Higher Education Association.  
Nick Cullen, Property Investment Director at BCP, commented on the transaction:
"We are delighted to exchange contracts off market to acquire the Fumbally Estate in Dublin 8. Based on conservative gearing, our investors will benefit from a cash yield of 7.0% on acquisition which will rise to in excess of 9.0% on signing of the leases in agreed form. On leasing of the remaining vacant space we expect the cash yield to rise to 12%.
At nearly full occupancy, the Fumbally Estate has proven itself as an attractive location for tenants to base and grow their businesses, and the fundamentals of the location are only improving.
Dublin 8 is evolving from a fringe office location to a mixed-use hub through the current and future planned development projects. This acquisition sits within BCP's investment thesis of acquiring real estate where we see structural drivers of rental growth over the long term, while the capital value per square foot on acquisition offers a very compelling entry price at this stage of the Dublin office investment cycle
We intend to add value through active leasing and estate management, and expect to deliver strong returns from the Fumbally Estate to our investors over the term of the investment.
We expect that this latest acquisition will support us in meeting our target return for the IPF of 8%-10% annualised (net of all fees). Since inception, BCP IPF has delivered a return of +10.6% annually (net of all fees). Given an expanding pipeline of opportunities, we are actively raising further equity and the fund is open for investment".
On completion of the purchase in 3 weeks' time, the property portfolio of the BCP IPF will be as follows:-
Property
Key Detail

Fumbally Estate

50% share in a High-Yielding Modern Office Portfolio in Dublin 8, purchased for €33.5m

Block R in Eastpoint Business Park

Purchased for €7.5m in 2015 and now valued at over €13m

Rent review with tenant (Google) due in 2018, where the rent is set to more than treble.

St. Andrews House, Exchequer Street, Dublin 2

Purchased in 2017 for over €11.3m

Excellent retail-focused building near Grafton Street with rental uplift potential

Morrison Chambers, Dawson Street, Dublin 2

15% share of a number of retail units in a key city centre location with excellent rental uplift potential

Project Kells, Dawson Street & Nassau Street, Dublin 2

15% share in one of the largest retail (and office) ground-up redevelopments that exists in Dublin city centre
For information on the BCP IPF, please click here.  If you have any questions please contact your Financial Advisor or BCP on 01 6684688.
Warning: Past performance is not a reliable guide to future performance. Warning: If you invest in this Fund you will not have any access to your money for at least 2 years. Warning: Where redemption requests exceed the cash in the Fund, or 10% of the NAV of the Fund, the Fund retains the right to freeze redemptions to avoid circumstances such as a forced sale of assets. Warning: The value of the property assets may fall as well as rise and it is possible that you may lose the total amount invested. The risks involved in geared property are greater than property without gearing. Warning: Your investment in this Fund may be affected by changes in currency exchange rates. Warning: Deductions for charges and expenses are not made uniformly throughout the life of the product but are loaded onto the early period. Warning: This is a capital at risk product.